History of the University of Debrecen

The history of the University of Debrecen goes back to the 16th century. The city established the Calvinist College of Debrecen in 1538. The College became soon the most important cultural center of the whole country, where a great number of writers, scientists and politicians received their education. In the 18th century the schools of Law and Theology were founded and although no separate School of Medicine existed, physicians were also trained in the College. Today's University Medical School is rooted in this spiritual heritage. The present day Debrecen is also famous for its schools and higher educational establishments. The Medical School of the University of Debrecen is Central Europe's first campus medical school. It was in the year of the millennium (1896) of Hungary's foundation when the establishment of a modern University was decided upon in Debrecen. The University was officially inaugurated on October 23, 1918 and at that time consisted of four faculties: Arts, Science, Theology and Medicine. The Faculty of Medicine became an independent University Medical School under the supervision of the Ministry of Health in 1951.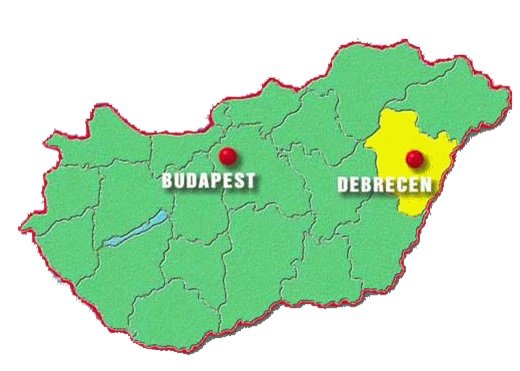 The Medical School has 22 departments of basic sciences and 25 clinical departments specializing in various fields e.g. clinical chemistry, internal medicine, surgery, orthopedics, radiology, neurology, neurosurgery, psychiatry, pediatrics, obstetrics and gynecology, cardiology and pulmonology, oto-rhino-laryngology, dermatology, ophthalmology, stomatology and urology. The Medical School serves as the city hospital for Debrecen therefore students of upper terms may also obtain their clinical training here. It is not only the best equipped institution in the area, but also represents the most important health care facility for day-to-day medical care in this region. This includes, beside other services, an adult haemodialysis centre, open-heart surgery facilities and a kidney transplantation unit. The Hungarian Government gives major priorities to health science higher education in its higher education policy. One of these priorities is to increase the ratio of college level training forms within the Hungarian higher education. The governmental policy thinks the aims realizable on condition that whole health science education system is built vertically from the post- secondary (certificate) level to the PhD-training. This is the reason for the establishment of intellectual resources of University of Debrecen Medical and Health Science Center (UDMHSC). The Act of Higher Education (1993) has restored the right of the medical universities to postgraduate and further education, residence and permission (license) procedures. This kind of training requires a new structure as well as a new administrative apparatus and the organization a training center. The new residency programs have been started in 1999. Admission requirements for Hungarian students are identical with the national standards. An important difference is the eligibility of chemistry as an option instead of physics in addition to the compulsory biology entrance examination. Exemption from the entrance examination is not possible; language proficiency exams are awarded with extra scores. International students have an entrance interview in physics, biology and chemistry and it is also possible for them to join higher year courses considering their previous studies completed in other countries. Syllabus and classes in both courses correspond to European standards. Total number of classes in medical education is over 5500, which can be divided into four main units:
basic theoretical training (1st and 2nd years),
pre-clinical subjects (3rd),
clinical subjects (4th, 5th),
internship (6th year). The rate of theoretical and practical classes is 30 to 70 %. The rate of students/instructors is 8:1. The first two years of dentistry education are identical with the education at the faculty of general medicine, which is followed by a three year pre-clinical and clinical training. A one-year premedical (Basic Medicine) course is recommended for those not having good enough knowledge in biology, physics and chemistry from high school. In addition to these subjects, courses in English and Hungarian are also included. Education in molecular biology started in the third year considering credits gained in previous studies in medicine or basic sciences. Our various College courses are gradually extended by new courses.
We started medical education in English 1986, and we start Dentistry Program for international students in the 2000-2001 academic year. The curriculum of the English language general medicine program meets all the requirements prescribed by the recommendation for a European medical curriculum outlined by the Association of Medical Schools in Europe in 1993. The sixth year of our curriculum is internship including Internal Medicine, Surgery, Obstetrics and Gynecology, Neurology, Psychiatry, Family Medicine – altogether 12 months – which is followed by a national board exam. The internship is again the same both in our Hungarian and English programs. After graduation many topics are offered for PhD-training that lasts three years. Outstanding graduates of our English MD- program can join these courses (English PhD-programs). Special education for family doctors has been started recently and we are preparing the new system of training for licensed physicians in Debrecen. Our recently accredited PhD programs include the following topics: a) Molecular and Cell Biology: Mechanism of Signal Transduction b) Microbiology and Pharmacology c) Biophysics d) Physiology-Neurobiology e) Experimental and Clinical Investigations in Hematology and Hemostasis f) Epidemiological and clinical epidemiological studies g) Cell- and Molecular Biology: Study of activity of cells and tissues in healthy and pathological conditions. h) Immunology i) Experimental and Clinical Oncology j) Public Health k) Dental Research l) Preventive Medicine The PhD-programs are run by more than 100 accredited highly qualified coordinators and tutors.